Concentrates Menu
Shatter, Moon Rocks, Crumble, Oil

Shatter
Shatter is a solid substance, which resembles a honey-colored glass shard. When tapped with a dab tool, it breaks into pieces or "shatters," get it? Shatter is one of the most recognized concentrates, is easy to manipulate and is far less messy than other varieties of concentrates or extracts.

Purple Punch (indica) - 1 gram

Purple Punch is the sweet and sedating union of two indica-dominant classics. By cross breeding Larry OG with Grand daddy Purps, the trichome laden Purple Punch was born. Smelling of grape candy, blueberry muffins, and tart Kool-Aid, the potency of this strain gives the consumer a one-two punch to the head and body. Purple Punch is a delicious dessert strain that is best suited for after dinner. Its effects may help with managing nausea, stress, minor body aches, and sleeplessness.
Gorilla Glue #4 (hybrid) - 1 gram

The sativa-dominant hybrid Gorilla Glue #4 is a cannabis strain that emits a piney, slightly minty scent with sour/lemon undertones and bears a sweet, chocolatey aftertaste.

Its THC levels can range between 17-25%, making this a potent sativa. Its high is mostly cerebral and creates a clear-headed happy and euphoric feel, relaxing the body though not enough to couch-lock the consumer.
Moon Rocks


Moon Rocks are a form of cannabis that shouldn't be underestimated. They were made for connoisseurs looking for a way to elevate their smoking experience. Unless you consume concentrated cannabis on the regular, smoking some Moon Rocks is bound to be a trip. You'll want water, snacks and good vibes around if you're trying them for the first time. To learn more follow this link to Wiki Leaf: Cannabis Moon Rocks.
Moon Rocks are made by taking a flower / bud, dipping it in cannabis oil, then rolling it in kief.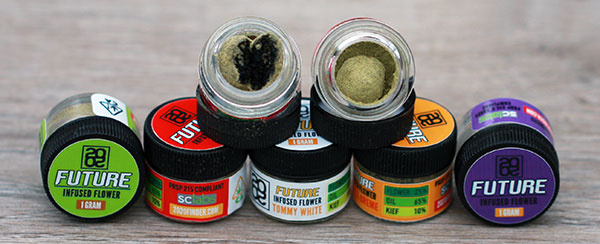 The open jar on the left shows a Moon Rock I broke open and the other one shows how they come.

Each Moon Rock weighs one gram and contains 25% flower, 65% Cannabis Oil, 10% Kief

5 Flavors to choose from - $22.00 each

Crumble


Crumble is a form of BHO (butane hash oil) which is purged for a long time at low temperatures in a vacuum oven, and whipped during the purging period. This gives it a softer consistency, yet allows it to remain brittle enough to crumble in your hand. Like other cannabis concentrates, crumble is much more potent than flower, kief or hash.
Crumble also has very high terpene levels, making it one of the more flavorful and aromatic forms of concentrate. Retaining terpenes throughout the purging process is accomplished by performing a long vacuum purge for several days with very little or no heat used.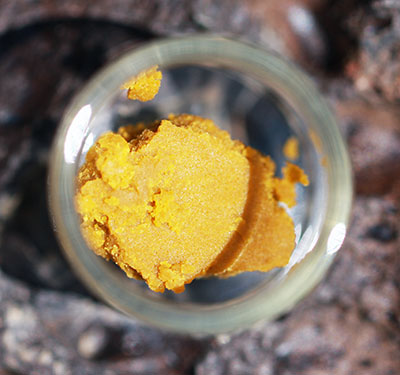 $35.00 each

PURE Syringes - 1 gram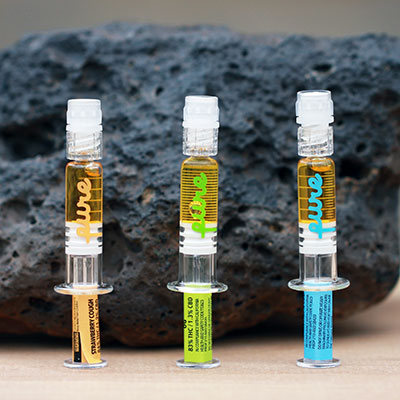 At Pure, we produce clean, 100% natural cannabis oil that is safely extracted with state-of-the-art CO2 machinery. To maintain consistency and the highest standards in purity, every batch is lab tested before and after extraction.
What's more fun than vaping Pure? Probably nothing, but we've added something that's just as fun! You can now enjoy your favorite, all natural, pesticide-free oil with nearly anything! The Pure Syringe is the perfect addition to your daily routine. Just squeeze it onto your next blunt or peanut butter sandwich and stay happy all day long!
Each medical grade glass syringe contains one gram of oil.

$45.00 each