Flower and Pre-rolled Joints
All of our flower is California grown.
We have a one ounce of flower maximum per order, please keep your order to one ounce or less.
Please email us for a list of flower we have available that is not listed here.



White Licorice - Indica
White Licorice is a sweet strain you won't want to put down. Firstly, prepare to be uplifted by White Licorice's initial effect, as it boosts your mood and fills you with blissful happiness. As the cerebral experience unfolds, you'll feel a well-balanced surge of energy that gradually gives way to a relaxing, long-lasting body high. Unlike sedative strains, White Licorice leaves you in a state of utter calm, perfect for finding tranquility and relief.    


Lemon Bar - Sativa Dominant
Lemon Bar has a unique citrus and earthy aroma. Its lineage is Lemon G and Do Si Dos. The lively and calming effect of this sativa-leaning strain makes Lemon Bar a good choice for an indulgent occasion, yet it gives the option for some intensive work too. 


Big Foot - Mixed Strains - 1 oz. Smokin' Deal - $60.00
One of our growers approached us with a killer deal on some flower that we couldn't pass up. It is a mixture of different strains like SFV and Ice Cream Cake. The price was right so we bought up a fairly large amount and we're passing the savings on to you.
We have received one or two complaints regarding the quality of our Big Foot flower. It is mid-shelf flower that the growers hung onto for a year hoping prices would go up and when they didn't they decided to sell it at a huge discount just to get rid of it. It is now considered lower-shelf flower for sure but it still gets you stoned. We are not representing it as anything other than low budget weed that does get you stoned.
We've also had a lot of purchasers of this flower email us to say how stoked they are with the price and quality.

Mystery OG - Hybrid - $80.00 - 1 oz.
We're not 100% sure what this strain is so we are calling it Mystery OG. Whatever it is one thing is for sure . . . the price is right!
I'm guessing this batch is from last seasons harvest and the grower was holding on to it hoping prices would increase and when they didn't they decided to sell it at a discount which we are passing on to you.
Just so you know, this is lower shelf flower but if you're looking for a bargain this isn't a bad choice.


Gary Payton OG - Hybrid

While some strains lean heavily into cerebral effects, couch lock, or creative reverie, Gary Payton OG is all about balance. Presenting a mesmerizing blend of green and purple hues highlighted by a dense thicket of orange pistils, this reliable hybrid is perfect for breaking out at a social gathering, where it will be admired before providing a smooth, gentle high that's amenable to any taste or tolerance.


Lemon Cherry Gelato - Hybrid
Lemon Cherry Gelato is a hybrid strain made by crossing Sunset Sherbet and Girl Scout Cookies. Lemon Cherry Gelato's effects include tingly,  relaxed, and euphoric and features an aroma of lime, berries, and citrus with flavors of lemon, and sweet fruit. The dominant terpene of this strain is caryophyllene.


Oreoz - Hybrid
Oreoz, also known a "Oreo Cookies" and "Oreos," is a potent hybrid marijuana strain made by crossing Cookies and Cream with Secret Weapon. This strain produces a long-lasting and relaxing high. Consumers should take caution as the high potency of Oreoz may be overwhelming to those new to cannabis. This strain has an aroma reminiscent of campfire s'mores, with extra delicious hints of chocolate and diesel.

Aloha Premium Mini Pre-Rolled Joints - 5 Pack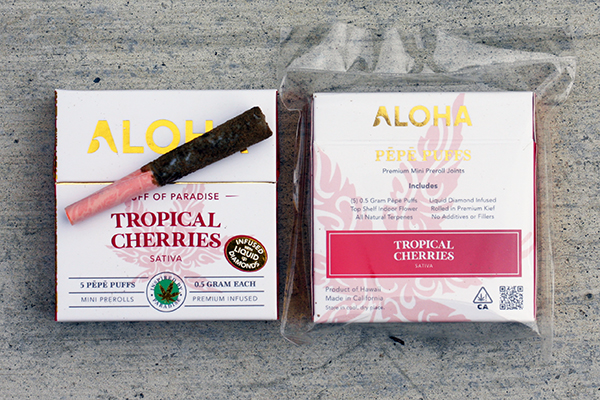 Enjoy a Puff-of-Paradise with these mini pre-rolled joints from Aloha.
5 Mini Pre-rolled Joints
1/2 Gram Each
Top Shelf Indoor Flower
Liquid Diamonds Infused

Rolled in Premium Kief

All Natural Terpenes


The Golden Rule Pre-Rolled Joints - 6 Pack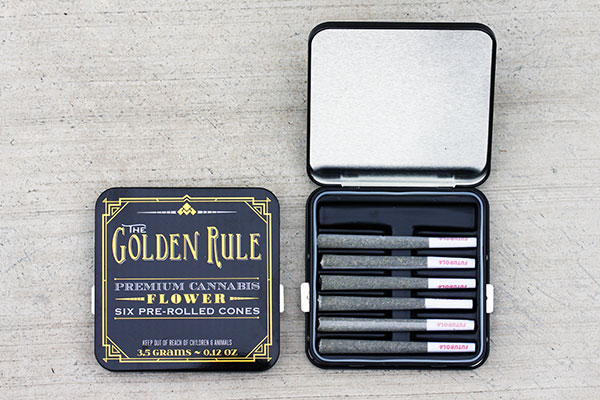 Each Golden Rule tin comes loaded with 6 pre-rolled cones / joints of premium cannabis flower totaling 3.5 grams.