Flower and Pre-rolled Joints
All of our flower is California grown.
We have a one ounce of flower maximum per order, please keep your order to one ounce or less.
Please email us for a list of flower we have available that is not listed here.



Sister Glue - Indica Dominant Hybrid
Sister Glue aka Gorilla Glue #1 is the potent and flavorful sister strain to Original Glue (f.k.a. GG4), which took the fast lane to fame in recent years after snagging several Cannabis Cup awards. This indica-dominant hybrid phenotype has a more piney aroma than her sister, though they were bred from the same parent genetics (Chem's Sister, Sour Dubb, and Chocolate Diesel). Patients typically look to Sister Glue (GG1)'s heavy-handed effects to treat pain and sleeplessness.


Runtz - Hybrid
Runtz, also known as "Runtz OG," is a rare type of  hybrid marijuana strain. Runtz is made by Cookies Fam by crossing Zkittlez with Gelato and it is loved for its incredibly fruity flavor profile that smells just like a bag of the sugary candy we all know and love. 


Blue Gelato - Hybrid
Blue Gelato is a deliciously sweet hybrid marijuana strain made by crossing DJ Short's old school Blueberry with GSC and Sherbert. With so many delicious strains at play, Blue Gelato puts out a smooth earthy, citrus, and fruity terpene profile that tastes as good as it smells.   As for the high, you can expect to feel lofty and free in a state of euphoric bliss.


Biscotti - Hybrid
Biscotti is a potent indica-dominant hybrid marijuana strain made by crossing Gelato 25 with Sour Florida OG. This strain produces a cerebral high that leave consumers feeling relaxed, creative, and buzzy from head-to-toe. The effects of Biscotti are known to creep up on consumers, so it's best to take it slow with this strain. In terms of flavor, Biscotti tastes like sweet cookies with undertones of diesel.


Cereal Milk - Hybrid
Cereal Milk is a hybrid strain made by crossing Y Life (Cookies x Cherry Pie) and Snowman, a sativa-dominant Cookies pheno. Cereal Milk has a loud flavor with a sweet milk and ice cream nose that will keep you dipping back into your stash. You can expect dense, quality nugs dripping with trichomes and a potent high.


Gary Payton - Hybrid
Gary Payton is a highly coveted hybrid marijuana strain named after the NBA Hall of Famer. Combining the Y and Snowman breeds a potent, flavorful, and colorful strain. This bud has a spicy yet sweet and savory diesel flavor with a lightly herbal exhale. The aroma is very similar, although with a heavy pungency to it that lingers long after the nugs are burned away.


Rainbow Sherbet - Hybrid
Rainbow Sherbet is an evenly-balanced hybrid marijuana strain made by crossing Champagne with Blackberry. Rainbow Sherbet is a notably tasty strain with hints of sugar and fruit. Smoking Rainbow Sherbet will have you feeling chilled out but focused enough to do something creative or inspiring.


Gary Payton OG - Hybrid

While some strains lean heavily into cerebral effects, couch lock, or creative reverie, Gary Payton OG is all about balance. Presenting a mesmerizing blend of green and purple hues highlighted by a dense thicket of orange pistils, this reliable hybrid is perfect for breaking out at a social gathering, where it will be admired before providing a smooth, gentle high that's amenable to any taste or tolerance.


Marathon OG Smalls - Hybrid
Marathon OG, also known as "Marathon Kush," is a potent indica marijuana strain bred from a cross of OG Kush. Marathon OG produces euphoric and relaxing effects that may overwhelm a novice consumer. This strain features flavors like lemon, earth and spice. Medical marijuana patients choose Marathon OG to help relieve symptoms associated with stress, anxiety and pain. Fun Fact: this strain was selected for the late rapper Nipsey Hussle, its name a homage to his series of famous mixtapes.
"Smalls" means the buds are really small but just as tasty as larger buds.


The Golden Rule Pre-Rolled Joints - 6 Pack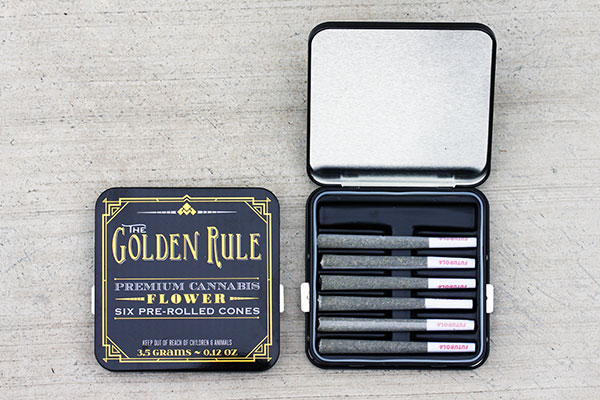 Each Golden Rule tin comes loaded with 6 pre-rolled cones / joints of premium cannabis flower totaling 3.5 grams.