Flower and Pre-rolled Joints
ALL of our flower is California grown. Our farmers grow indoors, outdoors and in green houses.
We have a one ounce of flower maximum per order, please keep your order to one ounce or less.

Top Shelf Flower. Indoor Grown. Super Nice.

Mid Shelf Flower. Indoor Grown. Nice.




Choose from: Indica, Sativa, Hybrid, or high CBD



Description: 1/2 ounce of small flowers / buds.

Our Naughty Nugs are sourced from Northern California marijuana growers. The strains are varied. We only put buds into our Naughty Nugs packages. These packets contain a mixture of small to medium sized buds / flowers - NO SHAKE & NO LEAVES** - buds only. If you discover any shake in your bag it came from the buds rubbing together in the package, we never add shake.

** We recently picked up some indica and hybrid flower that has some leaf (not much) and isn't as attractive looking as we usually get but we thought budget minded folks would still like it at $75.00 per 1/2 oz.   Below is a picture of it. We just don't want anyone to be disappointed. Click on the link below the picture to see a larger close-up image.
Naughty Nugs are an incredible value we hope you enjoy.

THC Design Pre-rolled Joints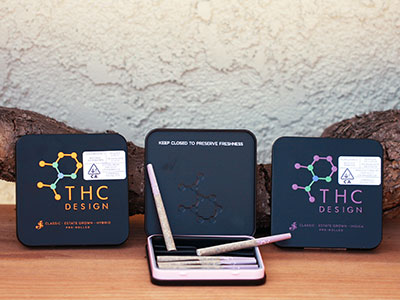 Estate Grown California cannabis in a convenient, easy-to-share tin. This product was responsibly grown using sustainable, biodynamic practices and has been independently tested by a 3rd party laboratory to ensure potency, purity, and compliance.
Each tin contains six pre-rolled joints totalling 3.5 grams

Hurricane Lite Pre-rolled Joints
Hurricane Lite Pre-rolled joints are made from House OG marijuana and rolled in golden kief. Each joint weighs 1.3 grams
Available in 10 amazing flavors.

Hypewoods Blunts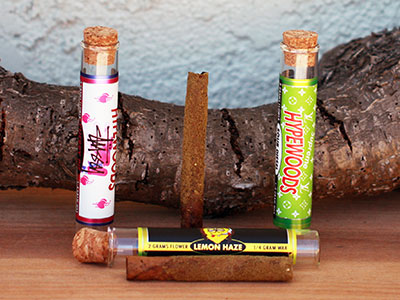 Each blunt contains 2 grams of flower and 1/2 gram of wax then it's rolled in keif

Moonrocks Pre-Rolled Joints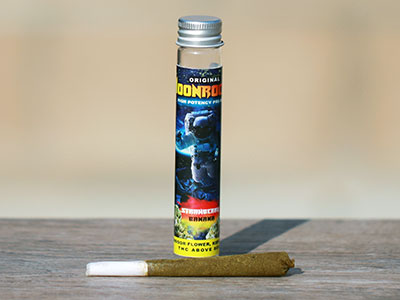 Each Moonrocks pre-rolled joint contains a total of 1.5 grams of indoor flower with cannabis oil covered in kief