Flower and Pre-rolled Joints
All of our flower is California grown.
We have a one ounce of flower maximum per order, please keep your order to one ounce or less.
Please email us for a list of flower we have available that is not listed here.



Forbidden Fruit - Indica - 1 oz. SPECIAL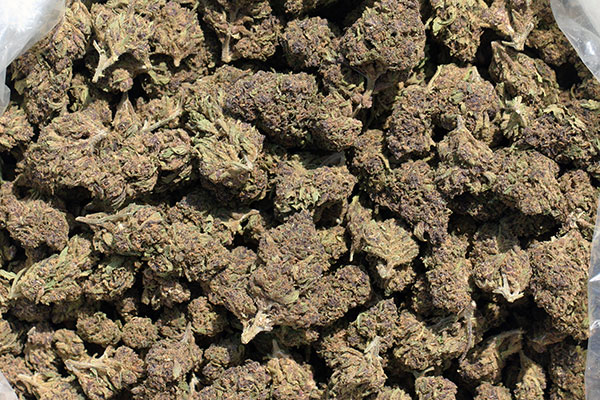 Click here for larger image  - You will see the deep purple hues not visible in this photo


A grower from Humbolt County had been holding onto this harvest from last year hoping prices would go up but they didn't so we were able to pick some up at a discount and pass the savings onto you. This is a great deal we hope you will enjoy.

Forbidden Fruit is the mouth watering cross of Cherry Pie x Tangie. This sumptuous genetic cross expresses a beautiful dense bud structure with deep purple hues, dark green foliage, and wiry orange hairs. The terpene profile is a perfect mixture of Cherry Pie's musky, sweet cherry undertones and Tangie's loud tropical flavors. There are also notes of pine, mango, and passionfruit candy. The indica effects hit hard between the eyes and lay into the body with each hit. Forbidden Fruit's deep physical relaxation and mental stoniness make it perfect for dulling minor physical discomfort and discarding stress.  


Girl Scout Cookies (GSC) - Indica Dominant Hybrid
GSC, also known as "Girl Scout Cookies" is an indica-dominant hybrid marijuana strain made by crossing OG Kush with Durban Poison. This popular strain is known for producing euphoric effects, followed up by waves of full-body relaxation. One hit of GSC will leave you feeling happy, hungry, and stress-free. The high THC content in GSC is beloved by medical marijuana patients looking for quick relief from symptoms associated with chronic pain, nausea, and appetite loss. GSC is famous for its pungent, dessert-like aroma & flavor profile featuring bold notes of mint, sweet cherry, and lemon. 


SFV OG - Indica Dominant Hybrid
SFV OG is an indica-dominant hybrid whose mysterious acronym actually stands for San Fernando Valley OG. It is a very lemony and bright strain that is also sweet and earthy. Many smoke SFV OG when in need of a good time, as it can induce a bout of euphoria and laughter.


MAC 1 - Hybrid - Nice and Sticky Buds
MAC 1, also known as "Miracle Alien Cookies" Is an evenly balanced hybrid strain (50% indica/50% sativa). The high starts in the head with a rushing euphoria that fills your mind with an expansive happiness, gently easing away negative or racing thoughts and replacing them with creative motivation and pure happiness. A relaxing body high accompanies this cerebral lift, keeping you tethered to the world below as your mind soars higher and higher into outer space.


Ice Cream Cake - Indica
Ice Cream Cake is an indica strain made by crossing Wedding Cake with Gelato #33. This strain offers sedating effects that leave your mind and body completely relaxed. Ice Cream Cake features a creamy flavor profile with sweet hints of vanilla and sugary dough. This strain is reported by consumers to have calming effects that help with pain, sleep, and anxiety. Ice Cream Cake is ideal for night time use when you have nothing important to do except watch TV and fall asleep.


Wedding Cake - Indica Dominant Hybrid
Wedding Cake is known for being as potent as it is delicious! After using this strain, it takes only a short while before the effects hit you heavily. This indica dominant hybrid was created from crossing Cherry Pie with Girl Scout Cookies. Wedding Cake is loved by recreational and medical users alike, given its ablity to relax the mind and body. This strain packs a punch and will last for quite awhile so make sure you don't have any important plans before indulging in Wedding Cake!


THC Design Pre-rolled Joints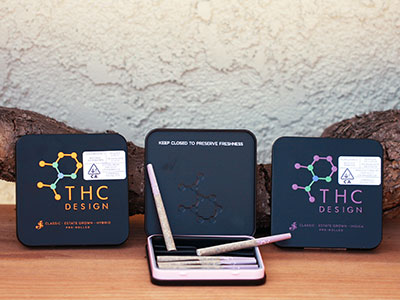 Estate Grown California cannabis in a convenient, easy-to-share tin. This product was responsibly grown using sustainable, biodynamic practices and has been independently tested by a 3rd party laboratory to ensure potency, purity, and compliance.
Each tin contains six pre-rolled joints totaling 3.5 grams