Flower and Pre-rolled Joints
All of our flower is California grown.
We have a one ounce of flower maximum per order, please keep your order to one ounce or less.
Please email us for a list of flower we have available that is not listed here.



Mystery OG - Hybrid - $80.00 - 1 oz.
We're not 100% sure what this strain is so we are calling it Mystery OG. Whatever it is one thing is for sure . . . the price is right!
I'm guessing this batch is from last seasons harvest and the grower was holding on to it hoping prices would increase and when they didn't they decided to sell it at a discount which we are passing on to you.
Just so you know, this is lower shelf flower but if you're looking for a bargain this isn't a bad choice.


Lemon Cherry Gelato - Hybrid
Lemon Cherry Gelato is a hybrid strain made from a genetic cross between Sunset Sherbet and Girl Scout Cookies. Lemon Cherry Gelato effects include feeling tingly, relaxed and euphoric. Lemon Cherry Gelato has an aroma of lime, berries, and citrus with flavors of lemon and sweet fruit. Lemon Cherry Gelato is a good choice when dealing with symptoms associated with anxiety, pain, and stress.

Grape Cherry Gelato - Hybrid
Grape Cherry Gelato is a hybrid strain created by combining Grape Gelato and Black Cherry Gelato. It has a unique flavor profile with notes of grape and skunk, and is known for its dense buds with purple hues and long orange hairs. The effects of this strain are versatile, providing both energizing and relaxing sensations. It may boost mood, relieve symptoms of depression and anxiety, and help with physical tension or chronic pain.

Bubble Bath - Indica
Bubble Bath is an indica strain made by crossing The Soap and Project 4516. Reviewers on Leafly say Bubble Bath makes them feel focused, uplifted, and happy. Bubble Bath features a flavor profile of sage and lavender. 

Strawberry Truffle - Hybrid
Strawberry Truffle is a hybrid strain made from a genetic cross between Strawberry Cough and Mendobreath F2. This strain is 50% sativa and 50% indica. Strawberry Truffle strain an ideal choice for experienced cannabis consumersand features myrcene as the dominant terpene.

Aloha Premium Mini Pre-Rolled Joints - 5 Pack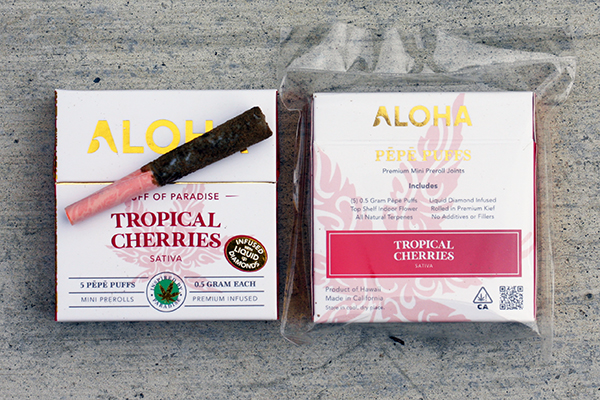 Enjoy a Puff-of-Paradise with these mini pre-rolled joints from Aloha.
5 Mini Pre-rolled Joints
1/2 Gram Each
Top Shelf Indoor Flower
Liquid Diamonds Infused

Rolled in Premium Kief

All Natural Terpenes


The Golden Rule Pre-Rolled Joints - 6 Pack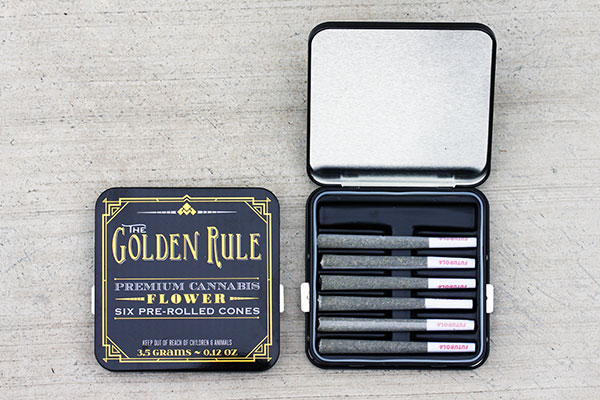 Each Golden Rule tin comes loaded with 6 pre-rolled cones / joints of premium cannabis flower totaling 3.5 grams.







THICC Phattys Pre-Rolled Joints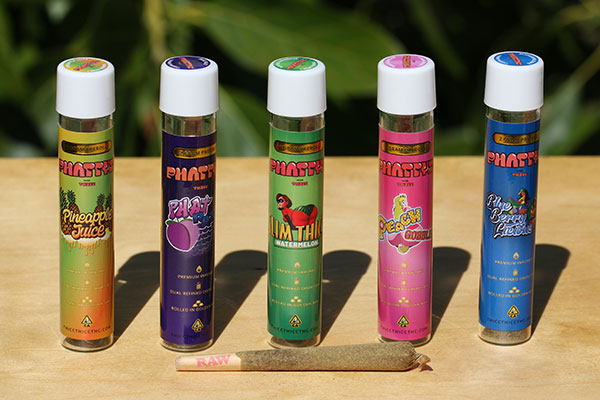 Premium flower pre-rolled 2 gram joints infused with refined distillate then rolled in golden kief.