Flower and Pre-rolled Joints
ALL of our flower is California grown.
We have a one ounce of flower maximum per order, please keep your order to one ounce or less.
We are experiencing a shortage of available flower and a spike in prices, this will probably last until the end of the year.




Super Silver Haze - Sativa

Click Here for larger image
Super Silver Haze is a sativa-leaning cross between the Haze and Skunk No. 1 strains. It has a skunky taste (as you can imagine), with additional notes of citrus and diesel. So it's definitely a dank strain. Despite it's harsh flavor though, it does offer nice effects and is great for nerve pain of all sorts.


Ghost Train Haze - Sativa

Click Here for larger image

Ghost Train Haze is a sativa cross of Ghost OG and Neville's Wreck. Unlike typical sativas, Ghost Train Haze grows dense buds blanketed in white, crystal-capped trichomes. With a sour citrus and floral aroma, Ghost Train Haze delivers a potent dose of THC to knock out pain, depression, and appetite loss, but patients prone to anxiety should steer clear of this heavy-hitter. Low doses are conducive to concentration and creativity, but you may notice some cerebral haziness as you smoke more.

GSC aka Girl Scout Cookies - Hybrid

Click Here for larger image

GSC, formerly known as Girl Scout Cookies, is an OG Kush and Durban Poison hybrid cross whose reputation grew too large to stay within the borders of its California homeland. With a sweet and earthy aroma, GSC launches you to euphoria's top floor where full-body relaxation meets a time-bending cerebral space.
A little goes a long way with this hybrid, whose THC heights have won GSC numerous Cannabis Cup awards. Patients needing a strong dose of relief, however, may look to GSC for severe pain, nausea, and appetite loss.

Di Si Dos - Indica

Click Here for larger image

Named in the tradition of its parent strain Girl Scout Cookies, Do-Si-Dos is a soothing indica hybrid. This bud combines aromatic Girl Scout Cookies and the body-melting indica, Face Off OG. The product is a pungent and well-balanced strain whose effects seem to last longer than average. Do-Si-Dos can be potent for even experienced cannabis users, with THC levels clocking in at between 19% and a whopping 30%.

Gorilla Glue - Hybrid

Click Here for larger image

Gorilla Glue is a potent hybrid strain that delivers heavy-handed euphoria and relaxation, leaving you feeling "glued" to the couch. Its chunky, resin-covered buds fill the room with pungent earthy and sour aromas inherited from its parent strains, Chem's Sister, Sour Dubb, and Chocolate Diesel.
Taking first place in both the Michigan and Los Angeles 2014 Cannabis Cups as well as the High Times Jamaican World Cup, this multiple award-winning hybrid's supremacy is no longer a secret and consumers will search far and wide to get their hands sticky with Gorilla Glue.

Cherry Pie - Indica Dominant Hybrid

Click Here for larger image

Cherry Pie, sometimes known as Cherry Kush, is a popular and potent indica-leaning hybrid. This strain is a cross between flavor-packed indica Grandaddy Purple and strong sativa Durban Poison, and it offers smokers some of the best characteristics of both parent strains.

Blue Cookies - Indica Dominant Hybrid

Click Here for larger image

Blue Cookies is an indica dominant hybrid cross between two celebrity strains, Girl Scout Cookies and Blueberry. As the child of these heavyweight champion strains, Blue Cookies delivers a crushing blow of euphoria straight to the head, where it swiftly sinks down to relax the entire body. Sweet berry flavors fuse with earthy cherry notes in a flavor profile as enticing as the bud's thick coat of frosty resin. Novice consumers should approach Blue Cookies with modesty, but this strain's potency is perfect for hard-to-impress veterans.

Ice Cream Cake - Indica

Click Here for larger image

Ice Cream Cake is an indica-dominant cross of Wedding Cake and Gelato #33. Completely flushed with icy trichomes, the buds express light green coloration with dark purple hues throughout. Ice Cream Cake maintains a creamy flavor profile with sweet hints of vanilla and sugary dough.

Gelato - Indica

Click Here for larger image

Gelato is a tantalizing hybrid cannabis strain following in the footsteps of its parents Sunset Sherbet and Thin Mint GSC. This Bay Area, California native gets its name from the fruity, dessert-like aroma, a common genetic thread among the Cookie family. Novice consumers may want to approach this THC powerhouse with caution, but those armed with a high tolerance will delight in Gelato's heavy-handed euphoria. Physical relaxation comes on strong, but many find themselves still mentally agile enough to stay productive and creative when enjoying Gelato during the day.

Banana Cream - Indica Dominant Hybrid

Click Here for larger image

If you're a fan of fruity strains that are sweet in scent and flavor, Banana Cream might hold a special place on your favorite's list. Combining Banana OG with Cookies and Cream Its terpene profile gives it an aroma that's similar to Banana Cream Pie. On the exhale, it has been described as sweet but leaning a bit towards an earthy aftertaste.

With THC levels around the low to mid-twenties, Banana Cream is an indica-leaning hybrid that reviewers say they have enjoyed, not only for its scent and flavor, but for the various effects that it has the potential to induce. Fans of this strain have enjoyed how it makes social situations more fun and sometimes leaves the consumer experiencing small fits of the giggles. Others have indicated that they enjoy the body buzz that accompanies their social mood, along with a decrease in tension found in the muscles.

THC Design Pre-rolled Joints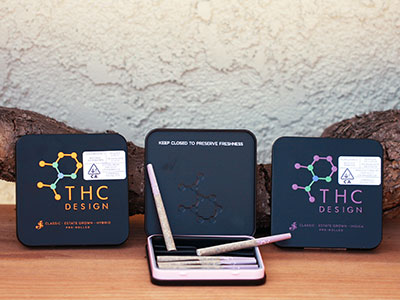 Estate Grown California cannabis in a convenient, easy-to-share tin. This product was responsibly grown using sustainable, biodynamic practices and has been independently tested by a 3rd party laboratory to ensure potency, purity, and compliance.
Each tin contains six pre-rolled joints totaling 3.5 grams

Moonrocks Pre-Rolled Joints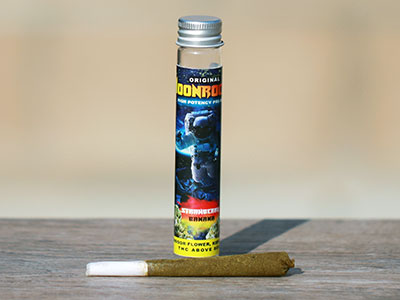 Each Moonrocks pre-rolled joint contains a total of 1.5 grams of indoor flower with cannabis oil covered in kief