Flower and Pre-rolled Joints
All of our flower is California grown.
We have a one ounce of flower maximum per order, please keep your order to one ounce or less.
Please email us for a list of flower we have available that is not listed here.



Big Foot - Mixed Strains - 1 oz. Smokin' Deal - $50.00
One of our growers approached us with a killer deal on some flower that we couldn't pass up. It is a mixture of different strains like SFV and Ice Cream Cake. The price was right so we bought up a fairly large amount and we're passing the savings on to you.
We have received one or two complaints regarding the quality of our Big Foot flower. It is mid-shelf flower that the growers hung onto for a year hoping prices would go up and when they didn't they decided to sell it at a huge discount just to get rid of it. It is now considered lower-shelf flower for sure but it still gets you stoned. We are not representing it as anything other than low budget weed that does get you stoned.
We've also had a lot of purchasers of this flower email us to say how stoked they are with the price and quality.

Jealousy - Hybrid
Jealousy is a hybrid strain made by crossing Sherbert Bx1 with Gelato 41. Jealousy is known for its balancing effects. Reviewers on Leafly who have smoked this strain say it makes them feel mentally relaxed but physically energetic. Jealousy can test into the high 20s interms of THC percentage, ideal for experienced cannabis consumers.

Sister Glue - Indica Dominant Hybrid
Sister Glue aka Gorilla Glue #1 is the potent and flavorful sister strain to Original Glue (f.k.a. GG4), which took the fast lane to fame in recent years after snagging several Cannabis Cup awards. This indica-dominant hybrid phenotype has a more piney aroma than her sister, though they were bred from the same parent genetics (Chem's Sister, Sour Dubb, and Chocolate Diesel). Patients typically look to Sister Glue (GG1)'s heavy-handed effects to treat pain and sleeplessness.


Ice Cream Cake - Indica
Ice Cream Cake is an indica marijuana strain made by crossing Wedding Cake with Gelato #33. This strain offers sedating effects that leave your mind and body completely relaxed. Ice Cream Cake features a creamy flavor profile with sweet hints of vanilla and sugary dough. This strain is reported by medical marijuana patients and consumers to have calming effects that help with pain, sleep, and anxiety. Ice Cream Cake weed is ideal for night time use when you have nothing important to do except watch TV and fall asleep.

Lion's Milk - Hybrid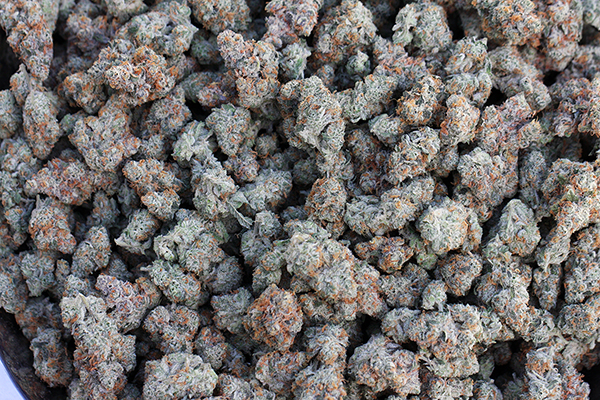 Click here for larger image
Lion's Milk crosses Pure Kush and Appalachia, creating a potent bud worthy of its Lion namesake. Buds take on a purple hue and come frosted in trichomes. Lion's Milk has sharp spicy and earthy notes and the high comes on easy, but when consumed in large amounts, it'll send you to the stars.


Sky Glue - Indica Dominant Hybrid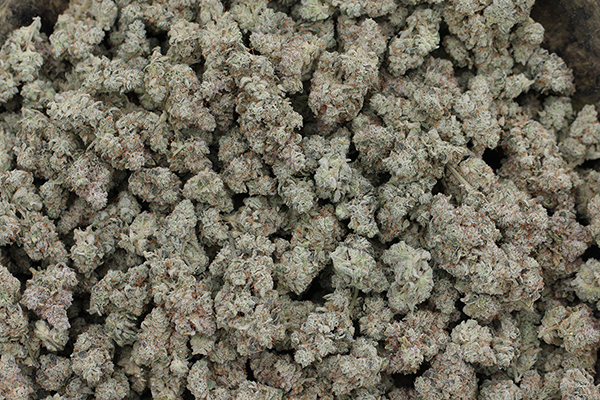 Click here for larger image
Sky Glue is an indica dominant hybrid strain that crosses Skywalker with Gorilla Glue. Sky Glue consumers describe the high as one that has an almost immediate onset of an extremely energetic and powerfully motivating cerebral head high with intensified awareness and creativity. Sky Glue has an aroma and flavor of lemony pine with sweet earthy tones.


Mochi Gelato - Hybrid
Mochi Gelato also known as Gelato #47 is a hybrid strain that promotes creativity and provides pain relief. Mochi Gelato is made by crossing Sunset Sherbet with Thin Mint Girl Scout Cookies. Mochi Gelato is known for having beautiful, dense buds with a frosty mixture of colors including purple, jade and bright red. 

The Golden Rule Pre-Rolled Joints - 6 Pack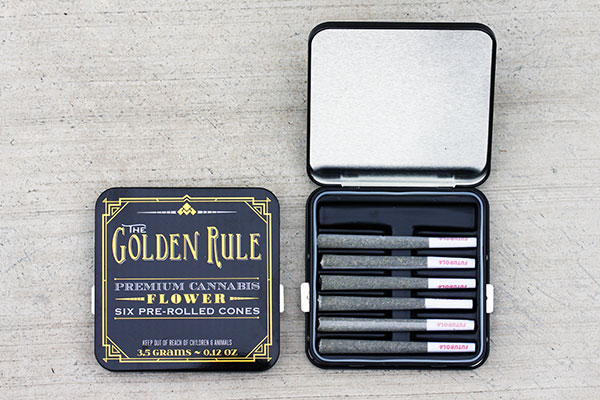 Each Golden Rule tin comes loaded with 6 pre-rolled cones / joints of premium cannabis flower totaling 3.5 grams.